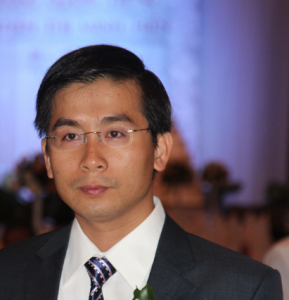 Dr. Trung Q. Duong
Title: 6G Integrated Space-Terrestrial Networks (ISTNs) for Global Coverage of Mobile Service
Abstract:
Future wireless networks beyond the fifth generation (5G) have been envisioned to increase many folds, in terms of key performance metrics such as latency, data rate, reliability, mobility, and user's quality of experience. However, one of the biggest difference between the sixth generation (6G) and its predecessor is the ability to support high speed connectivity of mobile services for global coverage, especially focusing on under-connected areas (e.g., forests, oceans, deserts, and mountains). Integrated space-terrestrial networks (ISTNs) provide the best solution to unravel the unconnected issues of isolated areas not only on the ground but also in the air and on the sea. Despite this premise, the research in ISTNs is still in its infancy with many open problems, associated with long delay communications, large coverage for massive number of devices, and highly demanding real-time services. This talk discusses optimal resource allocation for 6G ISTNs, with respect to the real-time constraints of mission-critical services, not only fundamental requirements, but also enabling technologies, visions, and future challenges
Bio:
Dr. Trung Q. Duong (IEEE Fellow and AAIA Fellow) is a Chair Professor in Telecommunications at Queen's University Belfast, U.K. and a Research Chair of the Royal Academy of Engineering, U.K. His current research interests include optimisation, signal processing, and machine learning in wireless communications. He has published 500+ books/bookchapters/papers with 17,500+ citations and h-index 71. He has served as an Editor for many reputable IEEE journals (IEEE Trans on Wireless Communications, IEEE Trans on Communications, IEEE Trans on Vehicular Technology, EEE Communications Surveys & Tutorials, IEEE Communications Letters, and IEEE Wireless Communications Letters) and has been awarded best paper awards in many flagship conferences including IEEE ICC 2014, IEEE GLOBECOM 2016, 2019, and 2022. He is the recipient of the Research Fellowship (2015-2020) and Research Chair (2020-2025) of the Royal Academy of Engineering. In 2017, he was awarded the first Newton Prize from the UK government for the be
st research and innovation that promotes the economic development and social welfare. He is a Fellow of IEEE and a Fellow of Asia-Pacific Artificial Intelligence Association (AAIA).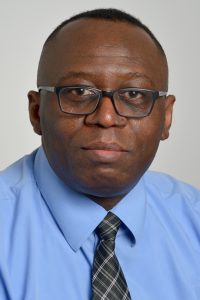 Celestine Iwendi
, 
Ph.D
SMIEEE FHEA
 FIMC
Research Coordinator, School of Creative Technologies, Univ of Bolton, United Kingdom. U.K Tier-1 Global Talent | Reader | Visiting Professor | Fellow HEA | ACM Distinguished Speaker | Senior Member IEEE | IEEE Brand Ambassador | Fellow Institute of Management Consultants
Title:
Advancing African Urban Environments: Utilizing IoT, AI, and Design for Intelligent and Sustainable Cities
Abstract:
The presentation will delve into the advancement of urban environments across Africa through the synergistic utilization of IoT, AI, and design principles, culminating in the creation of intelligent and sustainable cities. This fusion of technology and design aims to confront urban challenges, elevate the quality of life, and foster environmental stewardship. The talk will delve into the strategic deployment of IoT devices, artificial intelligence algorithms, and innovative design strategies to reimagine urban infrastructure, transportation networks, energy consumption, and resource management. The emphasis lies in nurturing African cities that embody not just technological prowess, but also social inclusivity and environmental resilience. By harmonizing cutting-edge technologies with considerate design, the presentation will envision urban landscapes that synchronize human well-being, economic progress, and ecological equilibrium, thereby paving the path towards a prosperous and sustainable future across the continent.
Bio:
Celestine is an IEEE Brand Ambassador. He has a PhD in Electronics Engineering, ACM Distinguished Speaker, a Senior Member of IEEE, a Seasoned Lecturer and a Chartered Engineer. A highly motivated researcher and teacher with emphasis on communication, hands-on experience, willing-to-learn and a 23 years technical expertise. Celestine has been endorsed by the Royal Academy of Engineering under exceptional talent Scheme for his contribution to Artificial Intelligence and medical application. He has developed operational, maintenance, and testing procedures for electronic products, components, equipment, and systems; provided technical support and instruction to staff and customers regarding equipment standards, assisting with specific, difficult in-service engineering; Inspected electronic and communication equipment, instruments, products, and systems to ensure conformance to specifications, safety standards, and regulations. He is a wireless sensor network Chief Evangelist, AI, ML and IoT expert and designer. Celestine is a Reader (Professor) at the University of Bolton, United Kingdom. He is also the IEEE University of Bolton, Student Branch Counselor and former Board Member of IEEE Sweden Section, a Fellow of The Higher Education Academy, United Kingdom and a fellow of Institute of Management Consultants to add to his teaching, managerial and professional experiences. Visiting Professor to five Universities and an IEEE Humanitarian Philanthropist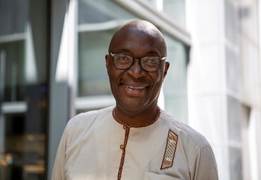 Prof. Roch H. Glitho
Title: Tactile Internet for Less Developed Regions: The Road from 5G to 6G
Abstract:
The Tactile Internet is foreseen as the next step of the Internet. Internet has first moved from fixed to mobile, then from mobile to the Internet of Every Thing. In sharp contrast with the Internet, the Tactile Internet enables haptic communications, in addition to traditional voice, audio and video communications. This makes possible skills set delivery over communication networks. This can bring to life a host of fascinating applications such as remote robotic surgery, remote repair, vehicle fleet and industrial process automation that are critical for less developed regions. However, the road to The tactile Internet might not be as smooth as expected. A lot was expected from 5G, the first stop on the road, but it happens that the early 5G deployments are now indicating that the Ultra Reliable and Low Latency Communications (URLLC) services are short of meeting all the stringent requirements of Tactile Internet. All eyes are now on 6G, the next stop, but 6G is still at the vision level. In this keynote speech, we will introduce the Tactile Internet, discuss 5G as Tactile Internet enabler along with the limitations. We will also elaborate on the current visions of 6G that may make Tactile Internet a reality and harness progress in less developed regions.  
Bio:
Roch H. Glitho (M'88–SM'97) received the M.Sc. degree in business economics from the University of Grenoble, Grenoble, France, M.Sc. degrees in pure mathematics and computer science from the University of Geneva, Geneva, Switzerland, and the Ph.D. degree (Tech.Dr.) in tele-informatics from the Royal Institute of Technology, Stockholm, Sweden. He is a Full Professor at Concordia University, Montreal, QC, Canada and an Extraordinary Professor with the Computer Science Programme, University of Western Cape, Cape Town 7535, South Africa.  He holds the Ericsson / ENCQOR Senior Industrial Research Chair on Cloud and Edge Computing for 5G and Beyond at Concordia University, and has held a Canada Research Chair in End-User Service Engineering from 2010 to 2020 at the same University. He has performed research, development and product management in industry and has held several senior technical positions, such as a Senior Specialist, a Principal Engineer, and an Expert with Ericsson, Stockholm, Sweden, and Montreal, QC, Canada. Dr. Glitho has served as the Editor-in-Chief for the IEEE Communications Magazine and IEEE Communications Surveys and Tutorials. He has also served as an IEEE Distinguished Lecturer.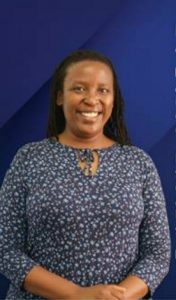 Prof. Fungai Bhunu Shava
Title: A Secure Information Infrastructure Framework for Smart African Cities
Abstract:
As cities embrace technologies, they become more intelligent ubiquitous and unlimited in their impact through intelligent cyber infrastructure. This is enabled by fast broadband and better supporting infrastructure. Researchers agree that smart cities have potential to improve the social and economic standards of the people through improved governance. As these developments are witnessed, information sharing, infrastructure requirements and security issues become very common.
Clearly, for a smart city to realise its capacity, high resilient Internet speeds, intelligent systems and efficient services are crucial, there is need for a secure supporting information infrastructure. Furthermore, the heterogeneous infrastructure components create complexity in providing services to the community. Thus a guiding framework which combines smart cities services, security and information infrastructures is an imperative.
Bio:
Fungai Bhunu Shava is the Acting Executive Dean, a Professor in Cybersecurity within the Faculty of Computing and Informatics, and the leader of the Digital Forensics and Information Security Research Cluster at Namibia University of Science and Technology (NUST).  Prof Bhunu Shava's fields of specialisation are Human Computer Interaction, User Experience, Network Security, Information Security in under-serviced communities.  Her work focuses on the secure use of ICTs as enabling tools for socio-economic development in developing economies and societies, including Child Online Protection.